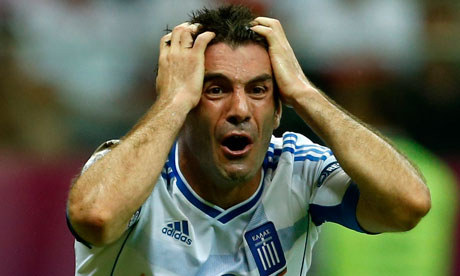 what do you mean you don't have tzatziki

Group A
Czech Republic - B+
- Saying that they've overachieved is obviously an understatement. To beat the Poles on their own soil without their only real star (Rosicky) is an achievement enough in itself.
Pilar
the left winger and
Selassie
the right back have had a couple of decent games, and the introduction of
Hubshcman
forged their identity. But Milan Baros by himself isn't going to scare the Portuguese and it's difficult to see them getting a goal much less progressing.
Greece - C+ -
Yes they were unlucky against Poland and might have won. And they have gotten better as the tournament has worn on. (players like
Samaras
come to mind). But it's more than fair to say that their luck has evened out. They really didn't play the football to earn their way to the knockout round, and were it not for a catastrophic error by a Russian center back they would be back home dusting off their drachmas and standing in the unemployment line. Will be interesting to see how they react after Germany score...
Russia - C -
Put the ball in the box! Every Russian must have been pulling their hair out watching that agonizing last 20 minutes against Greece. As great as they looked against the Czech Republic, it worked against them in hindsight as they must have thought that they'd waltz through the group. I thought their holding midfielder,
Denisov
was excellent, and
Zhirkov
was a bit unlucky that his good work didn't lead to more. I couldn't help but feel a little bit of schadenfreude too when Arshavin's lackadaisical tendencies that mutinied the arsenal on several occasions this year started to creep into his team, especially against Greece. With everything to play for, Russia looked like a team who had accepted their fate.
Poland - C- -
The Poles too must have thought that they'd waltz right through the group after their first 20 minutes of the tournament which they came out all guns blazing. But how fast did that peter out? The
Dortmund
stars were all impressive. But to lose at home to a rather toothless Czech side speaks to the lack of a backup plan that most of the nations failed to incorporate.
Group B
Germany - A -
You don't really get the feeling that we've seen the best of Germany. What we have seen is a cool and composed
Mario Gomez
who is choosing a decent time not to poop his pants on the big stage as he has in the past. They are definitely vulnerable, but a wise man wouldn't bet against them. They are confident too, and have a great team collected that is epitomized by
Ozil,
the most selfless play I can remember. They'd have to be the favorites to lift the trophy as unconvincing as Spain have looked.
Portugal- A- -
They must have been licking their chops when Denmark beat the Dutch in the opening game which blew the group wide open. And despite the fact that they had the advantage against Holland in that they didn't necessarily need the 3 points, you have to give them credit for taking what the group has given them. It's painfully obvious that they are at their best on the break with two of the world's best players with the ball at their feet,
Nani
and
Ronaldo.
But I just wonder whether there is enough of a passer in Meireles, Mountinho, and Veloso to overcome the kind of challenge that the Czechs will give them.
Denmark - B -
They will be kicking themselves for allowing that late winner against Portugal because that was the goal that effectively ended any real hope they had. But it was a decent showing from the Danes although we were left wanting more from the supposed Ajax starlet
Eriksen
who hardly seemed to see much of the ball. I guess the word got out about him. Their left back,
Poulsen
was impressive.
Holland - F -
And they earned their F. Bert Van Winkle or whatever their coach's name is clearly no Phil Jackson. And I can't remember seeing a team that clearly did not have any sort of collective spirit and high of a profile as this Dutch team. Sure we wouldn't be talking about this if they had progressed. Because this is essentially the same team that made the world cup final and played some incredible football two years ago. But what a failure. The tactics, the selection, everything they touched turned to shite.
Sneijder
was their best player, but what is it worth to be the best player in a failing system? Ask Felix Hernandez.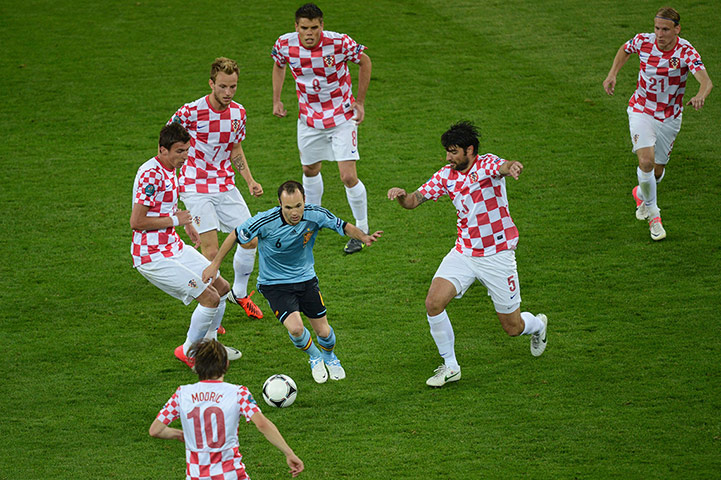 1 vs. 11
Group C
Spain - C -
Does Del Bosque know something we don't? He must, because no one else can figure out why he persists with this incredibly frustrating formation. Spain will continue to pass the air out of the ball, and the air out of the stadium, but you get the feeling that this won't win them the tournament. Surely Del Bosque knows this and will shake it up? Por supuesto que si. Meanwhile,
Andres Iniesta
, is just fine playing tiki-taka, thank you very much. Is there a player that could be more ideal for the type of Barca-induced style of football that Spain have made their trademark?
Italy - A -
You can take the Italians out of Italy...but you'll still get a vintage Italian team with a modern edge that look very dangerous. It's gratifying to see
Andrea Pirlo
, a longtime personal favorite of mine, having such a tournament in the twilight of his career. As ever with any Italian team, the key for them is to score first. They aren't built to come from behind, and they haven't had to do it at this tournament yet.
Croatia - B+ -
Croatia are surely the best team that will not be playing in the knockout round. And were a bit unlucky in the way the fixtures lined up for them, having to play Spain last.
Luka Modric
is just incredible, you can't say enough about his touches, passing, movements, just outstanding. Bilic had to roll the dice and go for it in the second half against Spain, an unenviable task. You just felt that they missed the energy of
Olic
who might have given the dog-tired
Mandzukic
a much needed lift.
Ireland - D -
They were out of their depth and they knew it. They didn't do themselves any favors conceding in the first five minutes, but at the end of the day Trapatoni just didn't have the players at his disposal to hang with three of the world's elite.
St. Ledger
was especially outclassed throughout (sorry buddy if you're reading this, but you were, it's not your fault you're just not that fast).
Group D
England - B+ -
Job done. I'm not entirely sold that they players have completely bought into Hodgson's style of play. It's one thing to defend, but surely England shouldn't be sitting back against the Ukraine as they were? Or maybe they should. I really am puzzled by England because it's so difficult to look at them objectively whilst we are so used to the players being stars for their club team while England are really just a bunch of mugs having a scruff.
Gerrard
has unsurprisingly flourished without having to worry about Lampard playing next to him. They still strike me as too mistake prone to lift a trophy or get by a team as solid as Italy.
France - B -
A bit of a mixed bag. They showed what they are capable of in spurts. But god knows it's gonna take more than that to repeat their epic 2006 world cup defeat of Spain. And it will have to come from the same man who scored in that game,
Ribery
, who all of France must be wondering if he's going to have his breakout game. Also,
Phillipe
"the hamburgler"
Mexes
begs the question to whether he'll be able to keep up with the Spanish maestros.
Ukraine - B -
That first game was a bit of an aberration, but they put themselves in great shape to qualify and let themselves down in the end. I thought they could have gotten something out of that France game if they had played with that same recklessness as they did against Sweden, but it wasn't to be for the host countries this tournament.
Yarmalenko
certainly turned some heads, and someone will snatch him up from Dynamo Kyiv no doubt.
Sweden - B- -
Why beat around it, this team is a one man show. And what a show it is. But just as with Ronaldo and Portugal, teams that rely too much on one player are ultimately doomed. Sweden gave us some great moments though. Like
Zlatan
getting in Joe Hart's face after they took the lead. Joey had the last laugh though. Could have used an Henrik Larson as Elmander didn't offer much, it was unclear whether he was even fit.